Services for fashion companies
Mainstreaming accessibility into fashion collections without creating an adapted clothing line.
All brands and designers have inclusive garments, but they are unaware of it.
Accessibility and inclusivity are done unconsciously, depending on trends and seasons. If for example, a wide-leg trouser is in fashion, this makes it easier to pass my feet, to wear it with a prosthesis.
Designers are not aware of the effect of their choices, they don't know what accessibility looks like in the garment, and they don't know which audience it benefits. The needs of people with reduced mobility are different from the needs of people with sensory (sight, hearing, touch) or cognitive (mental, intellectual) limitations.
Fashion design is extremely adaptable. It includes many processes, pattern making, tailoring, materials, fastenings, colours, and embellishments. The possibilities of designing a garment are almost infinite and the decisions we make hugely influence the accessibility of the garment.
The challenge is to make fashion without the need to make an adaptive line for people with disabilities.
Applying accessibility is simple, every designer can do it.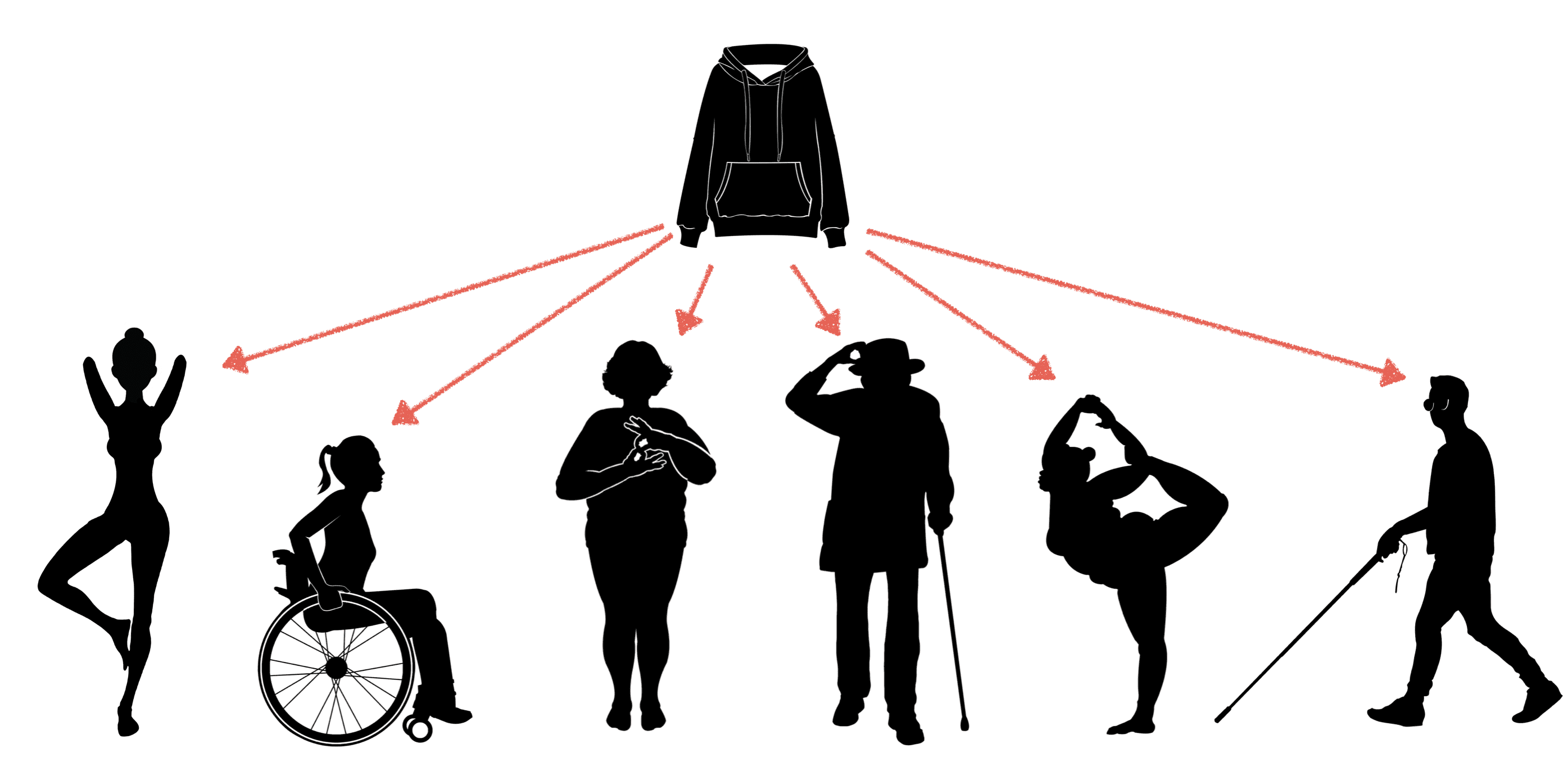 Market
15% of the world's population has some physical, cognitive or sensory limitation. A market of 1.2 billion people with an impact in Europe of €70 billion in 2018.
The market for clothing for people with disabilities is severely underrepresented:
Fashionable and functional clothing is in limited supply.
It is a growing and exploitable market.
It is a loyal consumer.
We all benefit from accessibility.
Inclusion will generate a $350 billion opportunity by 2023 globally. Are you ready to get this market?
Addressed to fashion professionals
Fashion designers
Creative studios
Fashion companies
E-commerce platforms
Renting services
Start-ups and entrepreneurs
Our Method
Phase 1: Assessment
General analysis of the organisation.
The Challenge: Where do we start?
It is important to know where you are. Most companies have inclusive clothing but they don't know which ones and why. Doing an internal brand analysis helps us to understand and share where the company is in the field of accessibility.
Phase 2: Programme
Diagnostic agreement.
The Solution: A personalised roadmap.
Our team develops the programme to suit you, empowering your brand by creating a strategic focus and key metrics to generate positive change.
Phase 3: Implementation
Design and launch.
Create the change: Design inclusion without making a specific line.
We provide our I+D, network of contacts, suppliers and our own method of training in accessible fashion. A visual method that allows the whole team to be trained at once.
Phase 4: Results
Social and economic value.
Growing impact: Winning 4 times your market using accessibility.
Measuring success. Understanding that what you are investing in is making a difference. The communication strategy is also an important part. We provide support in the follow-up and evaluation of results.
Results
You will get a personalised roadmap for successful accessibility integration with our pioneering approach for businesses and professionals. A system that allows inclusive clothing to be made without the need to produce an adapted clothing line. Using our Accessibility Mood Boards., we train teams with a visual and practical system.
Incorporating accessibility into collections means an increase in the market, improving production capacity by avoiding the costs involved in making a specific line.
If you want your products to reach their full potential, you need to design for accessibility.
¿Do you want to multiply by 4 the potential of your designs? Apply accessibility in fashion.
You will gain difference, brand value and you will reach a market of 1.200 million people.
Start designing accessible and inclusive fashion.
You only can win!